V. Gerald Nordley (1925-2007)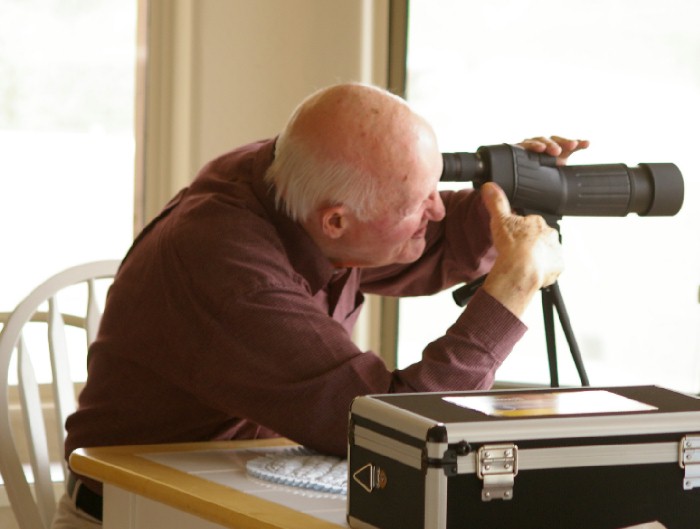 Christmas 2006. Photo by G.D.N.



This page was expanded from an early version of Dad's obituary. I plan to maintain and update this page until at least May 2008. If you'd like to contribute a remembrance, addition or correction to this page, please email it to me at: gdnordley@aol.com. Cards may be sent to Nordley, 8 Anemone Circle, North Oaks, MN 55127

--Gerald D. Nordley


My father, V.G. "Gerry" Nordley, longtime CEO of Hi-Lo Manufacturing Company passed away in Sun City, Arizona after a short illness on Sunday evening, 29 April 2007. Dad was the son of company founder Victor Alfred Nordley and Ada Louise Shedd. He graduated from Washburn High School in Minneapolis and served in the Navy as an "Iowa Seahawk" aviation cadet, playing (halfback?) on a their nationally ranked football team.

After the war, he attended the University of Minnesota, graduating with an engineering degree. In 1946, he married Washburn High classmate Evelyn May Whitesel. They had three children––myself in 1947, Erik in 1952 and Daniel in 1956. We were raised in Golden Valley, MN.

Dad became CEO of then-Equipment Engineering Co. upon his father's death in 1954 and built the company into a major supplier of power transmission components for a wide variety of applications under the name of HI-Lo Manufacturing Co. He continued as CEO of Hi-Lo, though allowing my brother Erik to take an increasing role in its management, until his final illness.

In the 50's and early 60's, our family maintained a cabin on Gull Lake, which was traded for a yacht on the St. Croix River in the 60's. Eventually, my parents built a house on the river bank near Scandia. In their later years, they had a townhouse and a boat in Port Ludlow, WA.

They were active supporters of the Guthrie Theater and Minnesota Twins baseball team. Dad also treasured his Washburn High School friends, keeping in contact, hosting parties, and attending reunions through the decades. He was a 3rd Degree Master Mason. He seldom missed a duck season, either.

Mother passed in 1997 (See the Star/Tribune obituary page for May 16 1997). In 1998, Dad survived a tornado that touched down in North Oaks and demolished the north side of their triplex at 8 Anemone circle.

Things turned around for him when he married my stepmother, vocal artist Maxine Carroll Berger (Mickie). Mickie and Dad led an active semiretirement life of travel, music, and family. They established a second residence and home office on a golf course in Surprise Arizona, where Gerry played for several years.

He became ill after his last business trip to Minnesota, and spent his final days in Dell E. Webb Memorial hospital near their home. While he had several serious medical conditions, the proximate cause of death was a cancer in his chest that was undetected until days before he passed and grew with astounding rapidity.

Dad is survived by Mickie, myself and my wife Gayle Wiesner, my brothers Erik T. Nordley and his wife Barbara; Daniel Shedd Nordley and his wife Nancy Johnson; stepchildren Shelley Lucas, RN, and her husband David; Shannon Daniel and her husband Steven; Shane Berger and his wife Denise, and grandchildren Sharon, Andrew, Meridel, Bryan, Jeff Goldberg, Scott Daniel, Shawn Daniel, Sarah Daniel, Susannah Daniel, Monica Lucas, Rebecca Lucas, and Amy Lucas.

Services were held at the chapel at Lakewood Cemetery, 28 June 2007, at 10 am. Daniel Shedd Nordley Presided, Gerald D. Nordley, Mary Shedd, and Sam Emerson spoke, Barbara Nordley gave a reading, and Erik Nordley, Andrew Nordley and others also provide remembrances. Thanks to all who attended. The reception at Vescio's Restaurant was a great success as well. Special thanks goes to Bob Hatlestad of Lakewood for all his help.

Memorial contributions may be sent to Ducks Unlimited and The Minnesota Association of Library Friends.

Written Contributions:

7 May 2007 From: Doug Smith

Erik-
Your Dad ,yourself and Hi-Lo have been a high point in my life-- Gerry was a man's man and a straight from the shoulder guy- My thoughts are with the Family-
Blessings,
Doug

From: Henry Fiola Gerry Nordley was instrumental, along with his Phi Psi contemporary, "Ace" Parker, of providing tremendous assistance to the survival of Minnesota Beta in the 60's. This not only included financial contributions, encouragement and management help, but he gave many of the brothers summer jobs at Hi-Lo manufacturing. Gerry was a soft spoken man who was a role model to many of us. He was a successful business man, a good citizen and a great guy. Those of us who knew Gerry and benefited from his help (including jobs at Hi-Lo) saw in him what Phi Psi was about -- brotherhood, helping people, maintaining relationships and good citizenship. Since I was initiated in 1960, my observation is that Gerry Nordley is one of the top ten contributors to the maintenance and growth of Minnesota Beta. I'll never forget him coming to meetings when we had seven active members and encouraging us. A great man, a great Phi Psi and a great legacy.


From Raymond Moy...Phi Beta Kapa, UMN '48: He was very active when I was initiated in '48 and I remember him very well. He was a great Phi Psi as well as a wonderful person and will be missed by very many friends and acquaintances nearly as much as the family!

From Nancy Clarke Stienberger: What a great guy he was! I used to visit my parents, Dick and Betty Clarke, at Cedarcliff bringing along two small children, Kurt and Susan. One of their biggest thrills was to spend time with your parents on our visits. Our kids remember your Dad's smile and laugh the most!

Meredie and Dan Danielson wrote: "He was such a neat man, always fun to talk to and had a great sense of humor. We have many happy memories."

John and Mary Gould wrote: We've known Gerry for so many years and my family knew the Nordley family quite well. Please extend our wishes...we had many enjoyable occasions to be with them.

Dr. Michael J. Mongomery sends: As the result of a phone call from Henry Fiola, I was one of the Phi Psi brothers who was given a job at Hi-Lo manufacturing at a time when I really needed a job. Gerry was a fair and cheerful boss and was well respected and admired by all of the employees. Because of his support and frequent presence at the Phi Psi house, Gerry was well known and looked up to by all the active brothers. Gerry Nordley was an inspiring role model in teaching the true meaning of Phi Psi brotherhood to the younger men.

---
(initiated 3 May 2007, revised 4 Aug 2007)