The Big Trip (East coast, South America, Antarctica)

It started with a brochure that arrived in the mail last spring advertising an Antarctic trips by Norwegian Coastal Voyages aboard Hurtigruten's ships, the MV Nordkapp and the MV Nordnorge. These were sister ships of the MV Richard With, which we had taken from Bergen to Trondheim the previous summer--and had been favorably impressed.

We were at the time three continents short of 7, not getting any younger as they say, and the price seemed right. One of the NCV itineraries included the Falkland Islands, which had fascinated Gerry since the 1982 war between Argentina and Britain. In addition, it covered much of the territory of Shackleton's epic "Endurance" adventure, as well as the South Atlantic leg of Francis Drake's circumnavigation. So we decided to do it.

Then mission creep begin to set in. Since the flight arrangements were in and out of New York or Miami, we would have to get ourselves to the East Coast. If we were going to the East coast anyway, we should probably arrange to see... Well it grew and grew:

When the web pages and email settled we ended up with the following odyssey. Our "Quick Trip Report" photos, plus a few extras have been included.

1. Plane to Washington DC (visit Gayle's sister Nancy and husband Eric Ernst)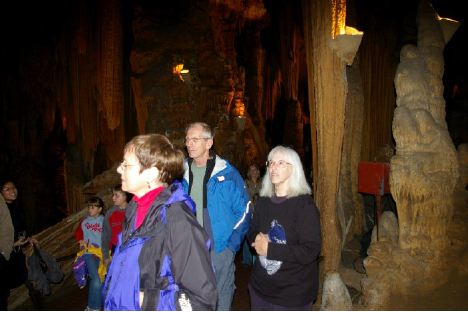 Nancy and Eric Ernst with Gayle in the Luray Caverns in Virginia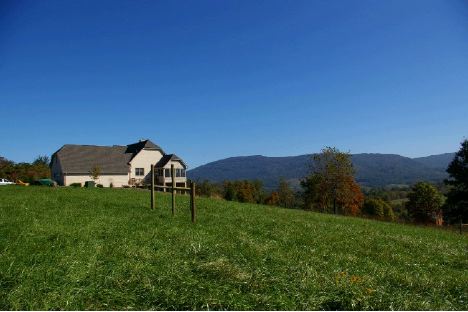 Eric and Nancy's house in Virginia and future vineyard.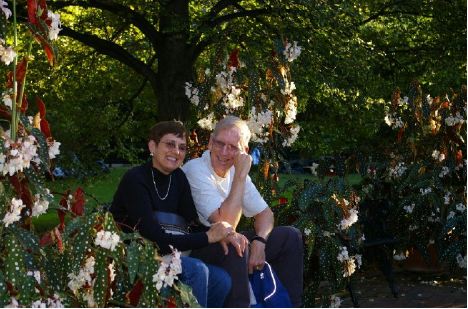 Nancy and Eric in a garden behind the Smithsonian


2. Train to Westport, CT, We visited Don and Sue Quinlan, Gayle's cousin.
Great meals, wonderful conversation, but no pictures!


3. Automobile to Tamworth NH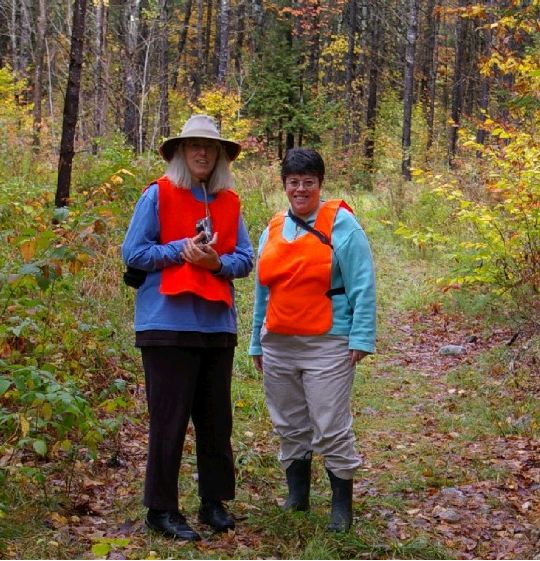 Gayle and her cousin, Elizabeth in the NH woods (yes, it's hunting season)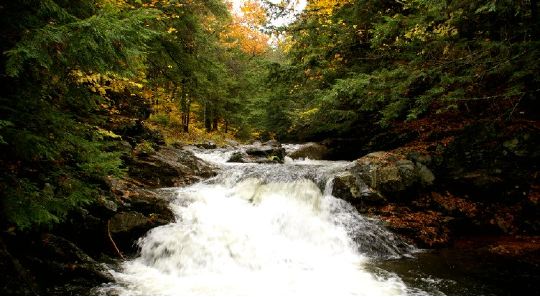 White water in the New Hampshire autumn.


4. Automobile to New York City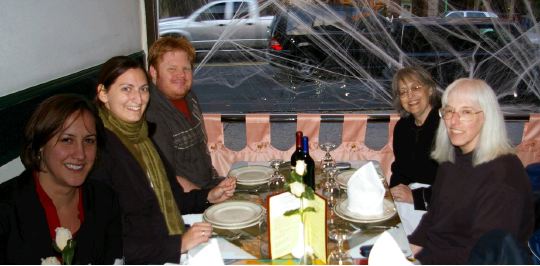 L-R, Ailene, Juliette, Mike, Gayle's cousin Sue, and Gayle at a Thai dinner in
Astoria (Queens, NYC). Aileen is Sue's daughter, Juliette is Nancy's daughter.

5. Plane to Buenos Aires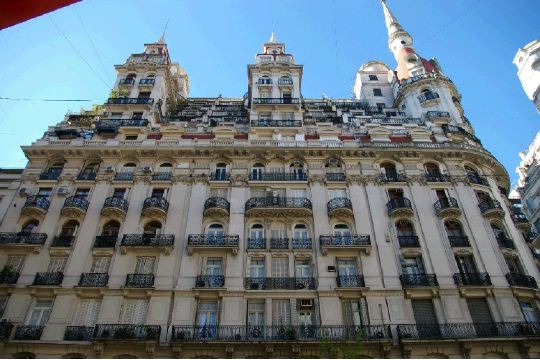 A building in Buenos Aires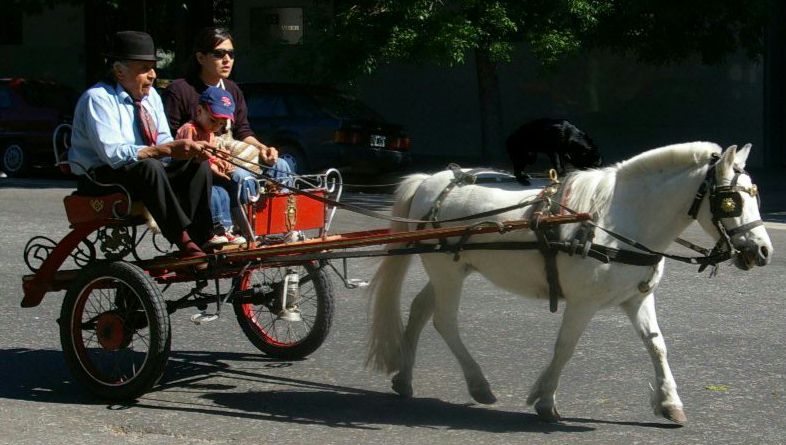 Poney Cart at Mataderos country fair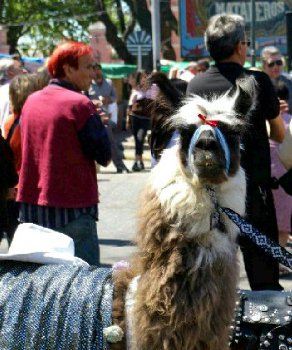 .Llama looking at you.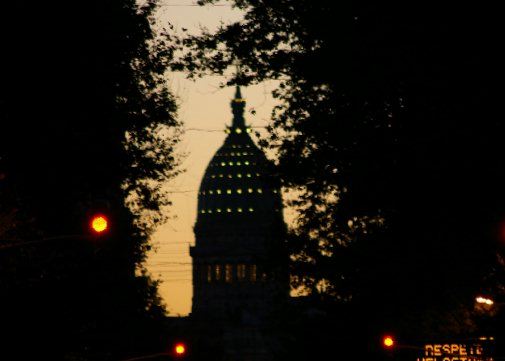 Argentine Congress in evening


6. MV Nordnorge enroute to Falkland Is.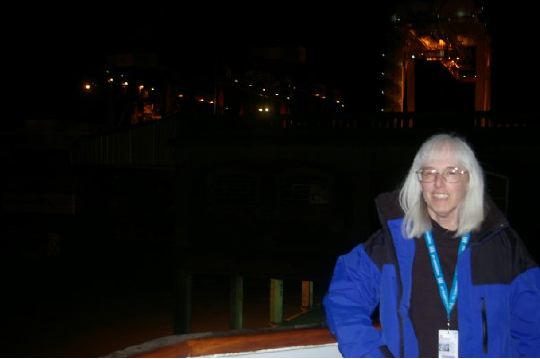 Gayle, on the MV Nordnorge, sans cameras.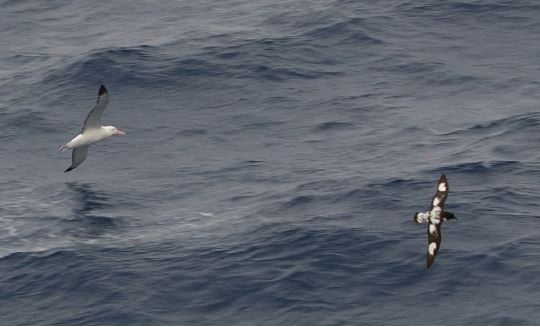 Wandering Albatross and Cape Petral. These species were with us most of the trip.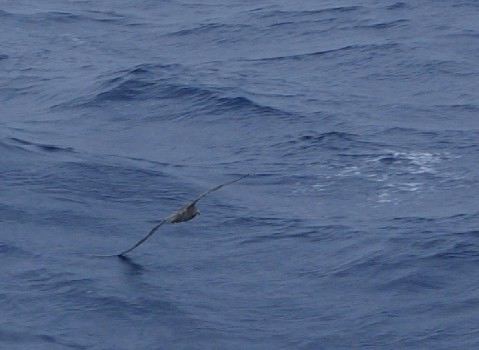 A Southern Giant Petral dips its wing in the water. (Does anyone know why they do this?)

7a. Ship to Westpoint Is., Falkand Is.



Polar Cirkle Boat Operations. The boats come alongside the ship and nose into a set
of metal stairs hung down from a hatch in the starboard side. Each boat can hold a
driver and ten passengers (4 on one side, five on the other, and one in the nose),
but in practice were usually limited to eight. The boats themselves were hoisted in
and out of a large bay forward of the embarking hatch. The door to that bay is in the
foreground, raised and partly obscuring the stairs.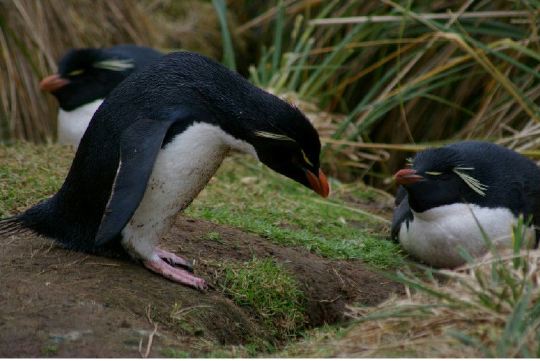 Rockhopper penguins. Westpoint has a combined Albatross and penguin rookery.


7b. Ship to Long Island.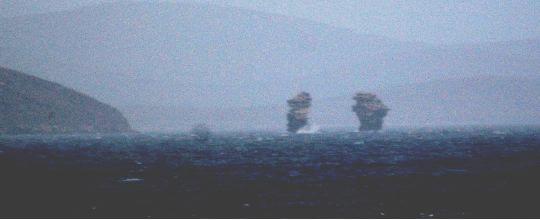 Pillars off the coast. It was late, dark and foggy when we got to Long Island;so there
was no landing. A local artist came aboard ship to meet us and sell some things.


8. Ship to Port Stanley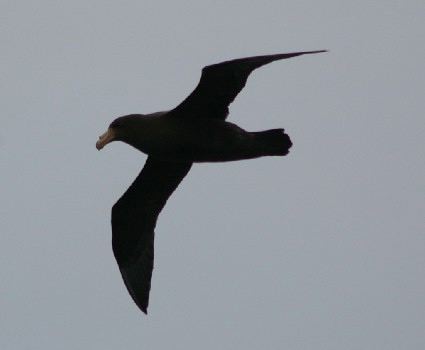 Northern Giant Petral (or immature Southern Giant Petral?)


8a. LandRover to Goose Green, Falkland Is. and return.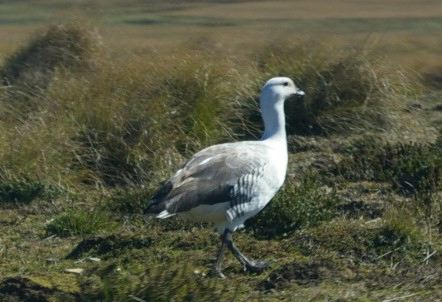 Upland Goose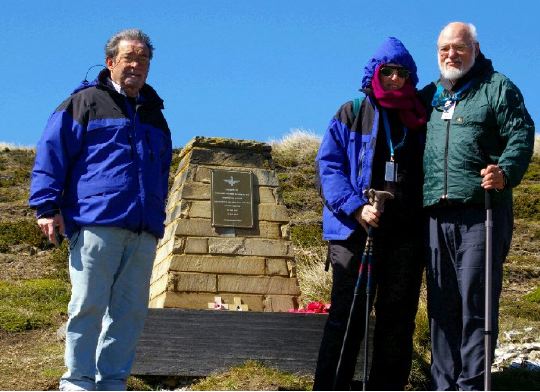 Richard Vaughn, Gayle, and GDN at the memorial to Lt. Col H. Jones on Darwin Hill
near Goose Green. Richard went to Sandhurst with H. Jones.

Inscription (just barely readable on the 2 Mbyte original):


IN MEMORY OF
LIEUTENANT COLONEL H. JONES VC OBE
COMMANDING OFFICER
2ND BATTALION THE PARACHUTE REGIMENT
KILLED IN ACTION
ON THIS SPOT
28 MAY 1982
UTAINQUE PARATUS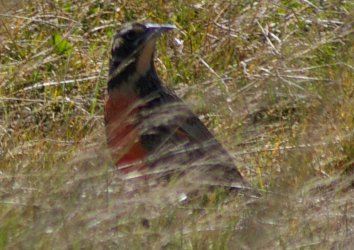 Longtailed meadowlark, taken at Goose Green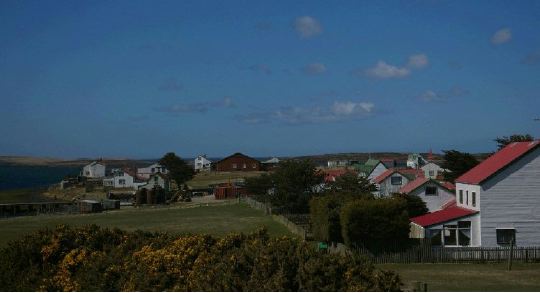 Villiage of Goose Green, lately on hard times due to declining wool market.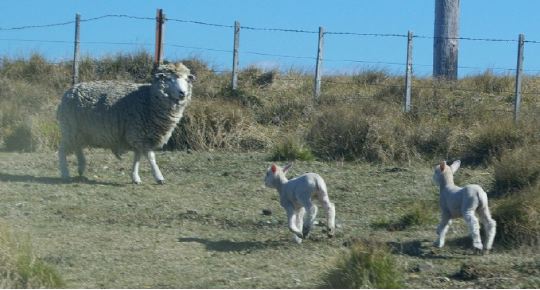 A Falkland Ewe and her twin lambs.


8b. Bus to Stanley and return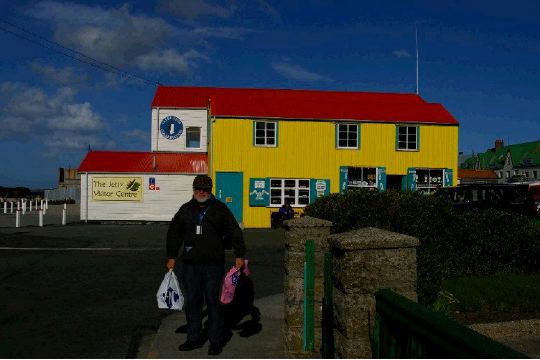 Gerald with purchases in front of the Stanley Visitor Centre


9 MV Nordnorge to South Georgia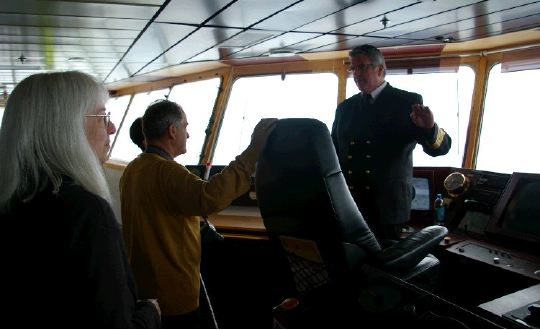 Gayle on tour of the Nordnorge's bridge. No perspective tricks here; Capt Hansen is 2 meters tall.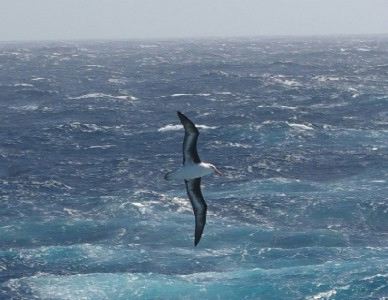 Black Browed Albatross

9a. Fortuna Bay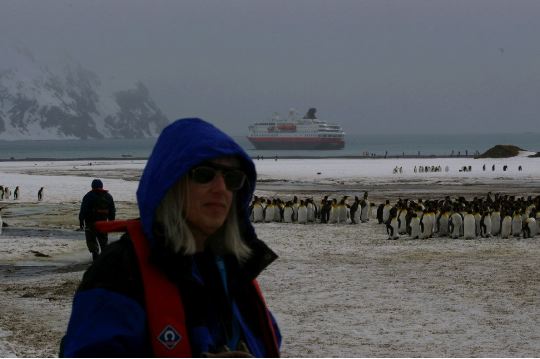 Gayle at Fortuna Bay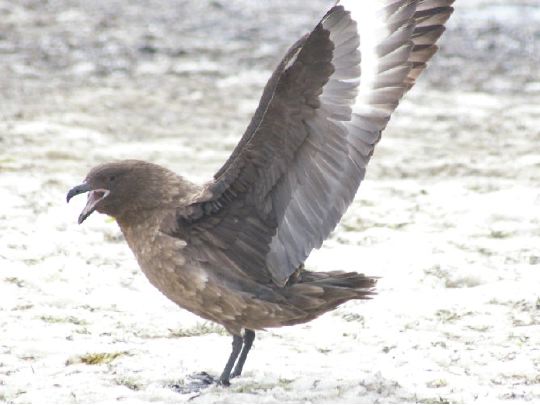 A Skua (King Penguins and large chicks had no problem chasing them off).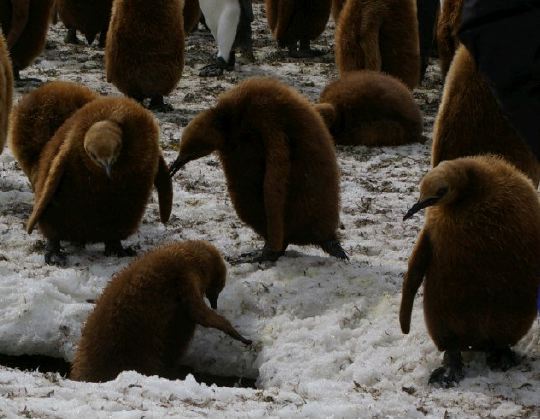 This King Penguin Chick fell through thin snow into a hole (as Gerald did later, at
Stromness). Its rookery mates were clearly interested. Yes, it finally got out, and
yes, it would have been okay to help it.


9b. Stromness, South Georgia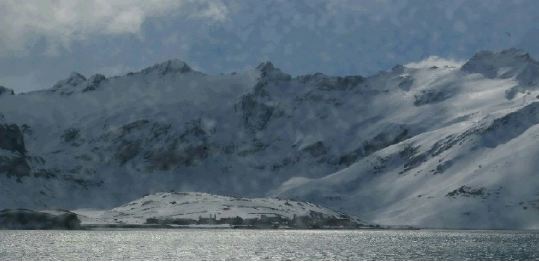 Coast scenery going into Stromness; typical of South Georgia and the Antarctic Peninsula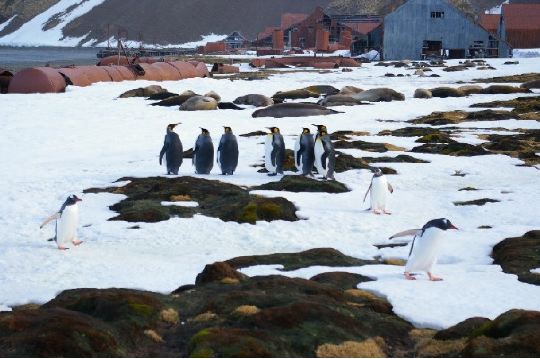 Ruins, elephant seals, king penguins, and gentoo penguins.


9c. Grytviken, South Georgia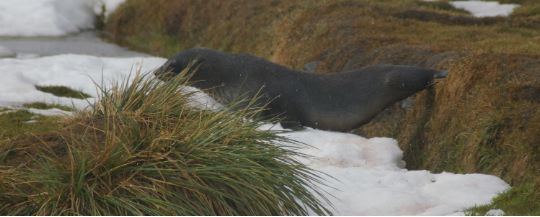 Fur seal photographed jumping(!) across a ditch near the Grytviken cemetary.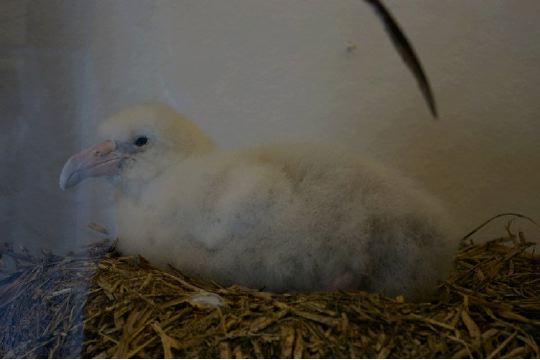 This stuffed Albatross chick is typical of the excellent quality of the Grytviken museum exhibits.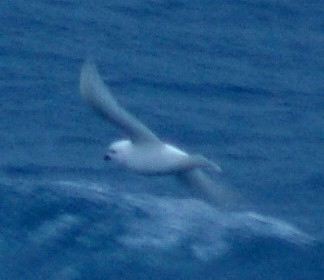 A Snow Petral


10. Ship to South Shetland Islands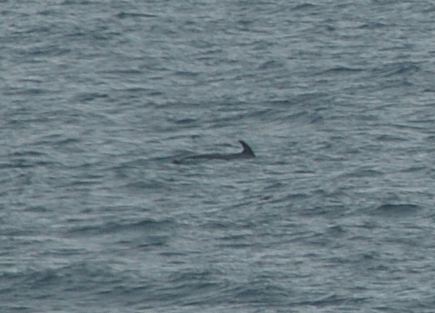 From this picture, our expedition naturalists determined that not only was this whale an
Orca, but a young female Orca! (The shape of the fin was apparently the key).


11. Arctowski Base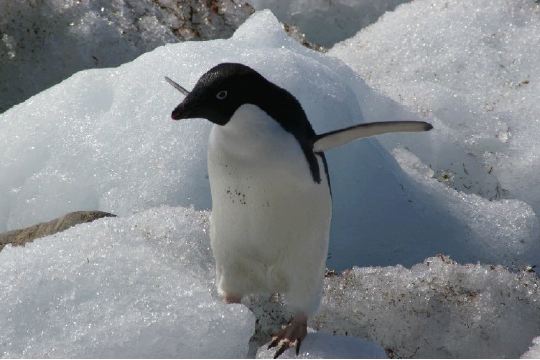 Adelie Penguin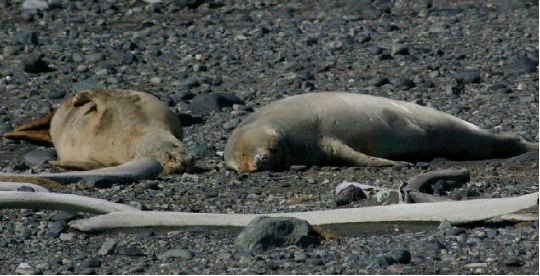 Weddell Seals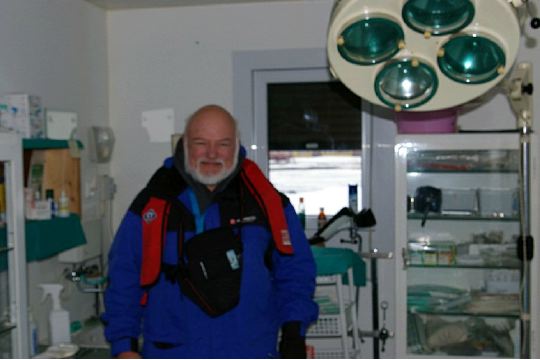 The doctor at the Polish Arctowski base showed Gerald his infirmary, and took this picture.
The Poles were great hosts.


12. Ship to Half Moon Island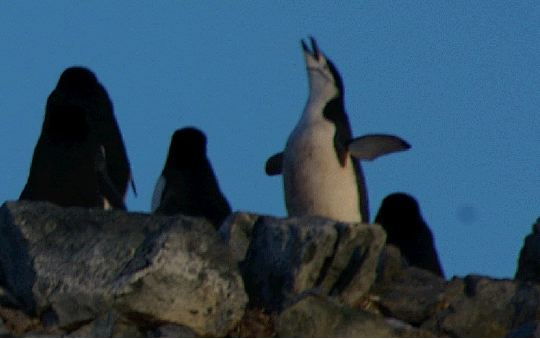 Chinstrap Penguin in "ecstatic" display.


13. Ship to Cuverville Island, Antarctic Peninsula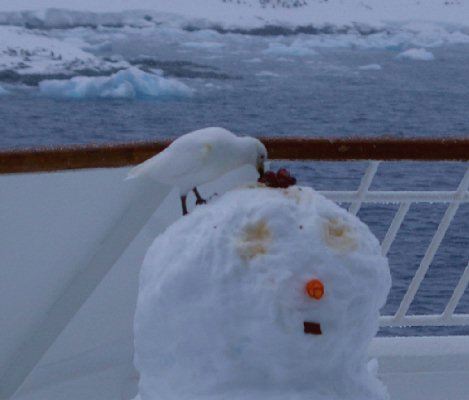 It snowed overnight and a passenger had made a snowman,
which the sheathbills discovered.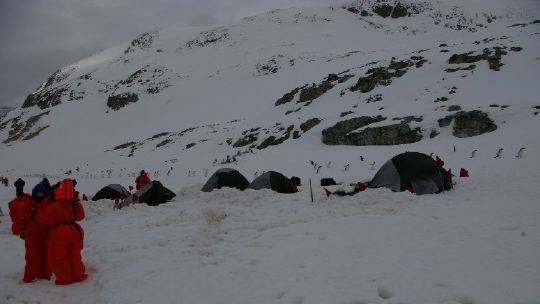 Stranded on Cuverville Is. in high winds. Note the emergency survival suits (orange),
survival tents and gentoo penguins heading downwind. A combination of wind
speed and direction made boat operations at the ship too risky to conduct for almost
five hours. Sea ice at the landing site was also a problem.


14. Ship to Neko Harbor, Antarctic Peninsula (On Antarctic Mainland!)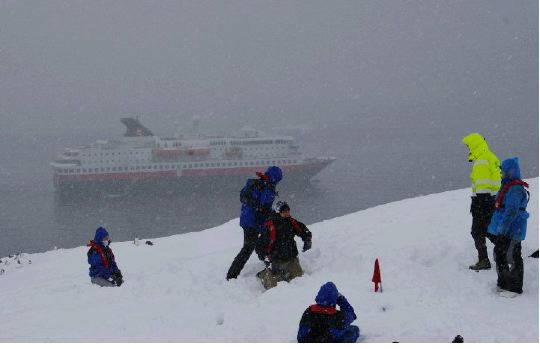 The landing near Neko Harbor on the Antarctic mainland.
This was rigorous as well, but manageable.


15. Ship to Port Lockroy, Crescent Is., Antarctic Peninsula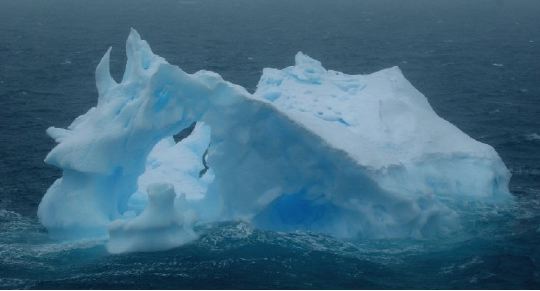 Iceberg on the way to Port Lockroy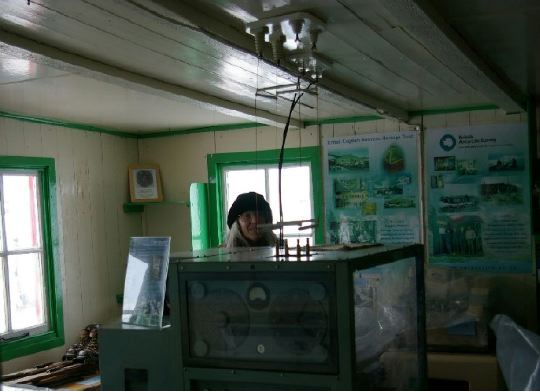 Radio and instrument room at BAS historical Base A, Port Lockroy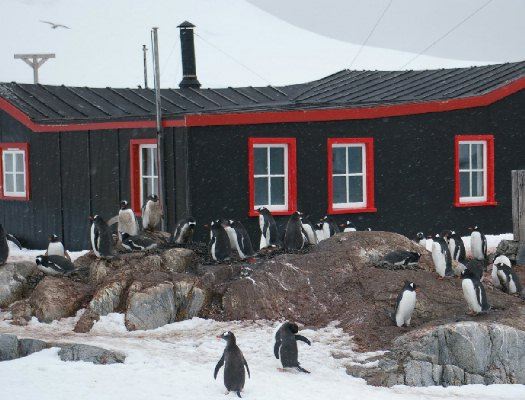 Gentoo penguins have taken over the grounds at historical British Antarctic Survey
Base A, Port Lockroy. Originally establlished to track German subs in WWII,
it became a research station and now mainly a museum of mid 20th cen. base tech.
In an example of be-careful-what-you-wish-for, the weather was fairly calm, mostly
sunny, and well above freezing, ideal conditions to smell penguin droppings.


16. Ship to Deception Is. Antarctic Peninsula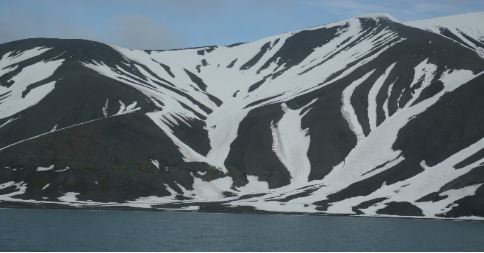 Remaining snow highlights the ravines in a volcanic ash formation at Deception Island

Deception Island is a volcanic feature similar to Santorini, but not as striking.
The main attractions were Base B ruins and a volcanic warm spring area that one
could "swim" in. (We declined this experience.)


17. Ship to Ushuaia, Argentina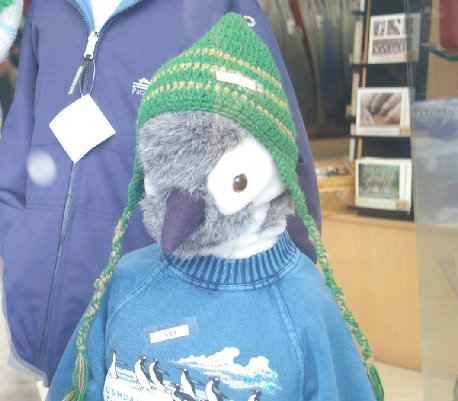 .
penguin models in the storefronts.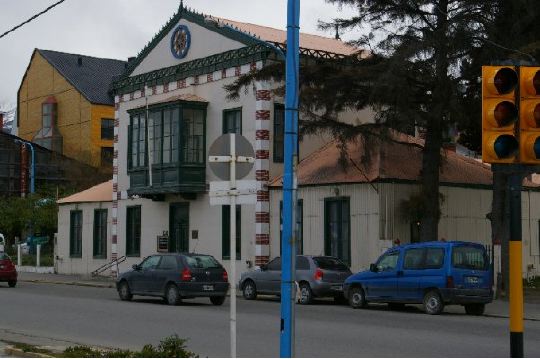 Old Provincial Capitol Building in Ushuaia


18. Plane to Buenos Aires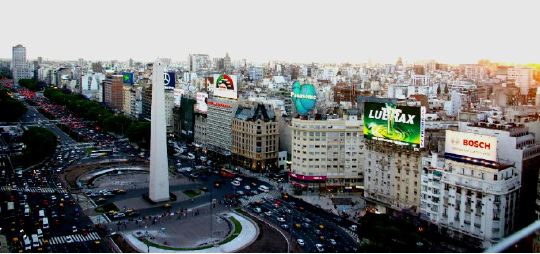 Buenos Aires Skyline from near the top of the Panamericano hotel. After having had
two cameras stolen on our previous visit, would you believe we didn't take a camera to dinner?


19. Plane to Santiago Chile where we stayed at the eclectic but friendly La Foresta Hotel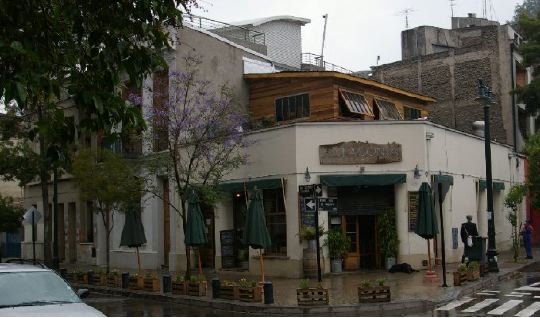 The Patagonia Restaurant, our favorite in Santiago.


20. Plane to New York City
We stayed overnight@Soldiers&Sailors, and attended Met Opera-Rigaletto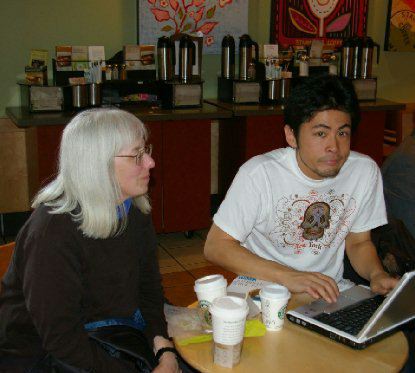 Gayle and Nephew Taka


21. Plane and automobile to St. Augustine.
We stayed at St. Augustine Beach at the Days Inn





Castillo San Marco; held against British seiges 1702, 1740 & 1742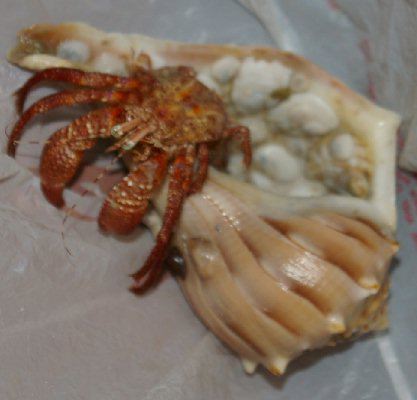 Crab Evicted!


22 Automobile to Lady Lake, Florida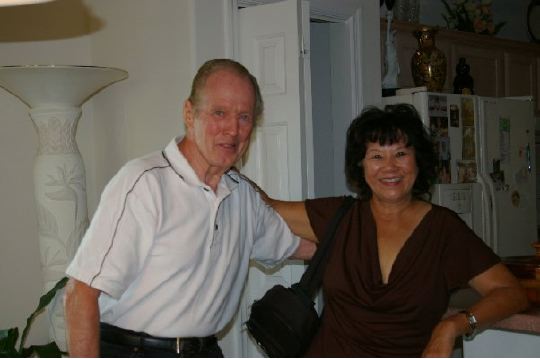 Bob and Mary Alborn. Bob was a TRW colleague of Gerry's
when Gerry worked in the AF Space Div.

We stayed at the Days inn, Cocoa Beach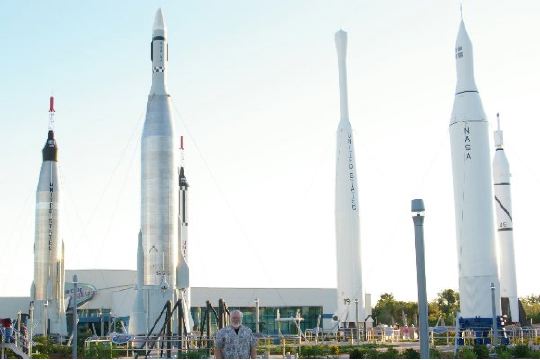 GDN at the KSC "Rocket Garden"


24. Automobile to Key West
We stayed at The Angelina B&B on Angela street.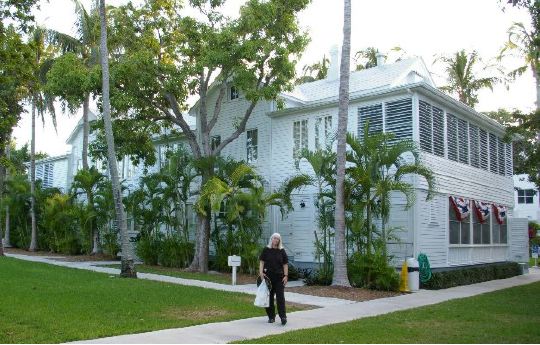 Gayle at the Harry Truman "Little White House" in Key West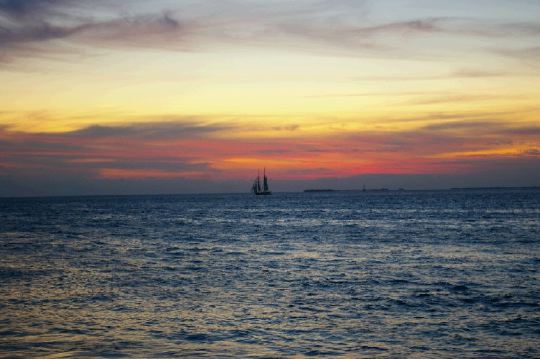 Key West Sunset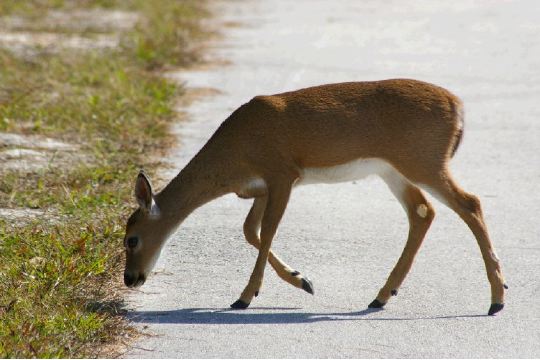 Key deer, about 24 inches high

25. Automobile to Miami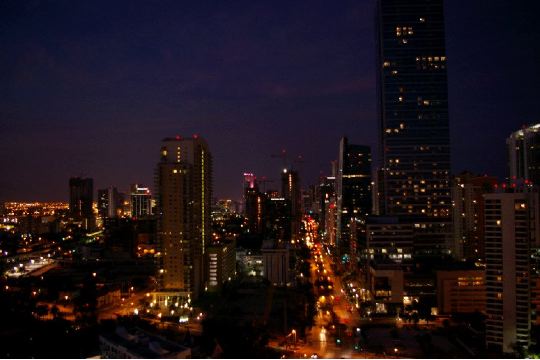 Miami Skyline from the Appartment of Gayle's neice, Lea Ann and her husband, Alfredo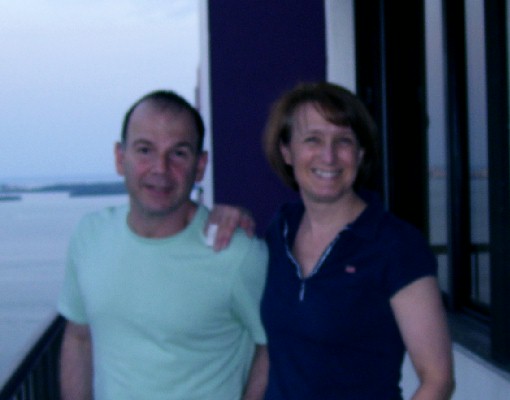 Alfredo and Lea Ann

26. Plane to San Francisco, van home.